Computer
What are the Different Ways Macs and iPhones Sync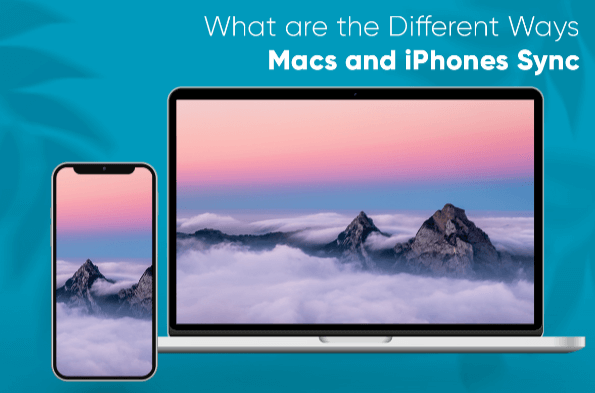 Apple's ecosystem ties all the devices together, making it easy for users to access files and photos seamlessly. In addition, the ecosystem merges most features and apps to create a cohesive experience. This is why a website, application, or service looks the same across all Apple devices.
Owning a Mac and an iPhone means the devices will work with one another, like continuing a FaceTime video call, getting calls on other devices, continuing an iMessage conversation, etc.
Here's how you can pair your Mac and iPhone:
Use a USB-to-Lightning cable with your iPhone to connect to your Mac. Ensure both devices are powered on. Once you have connected the cable, you can start things by opening the Finder app on your Mac.
Pair the devices by connecting them to the same Wi-Fi network.
Using iCloud to pair both devices, you can easily access and share files stored on the cloud storage service. You must sign in using the same Apple ID on both devices.
These are some ways to pair your iPhone and Mac, so they seamlessly sync with each other. However, if you want to get the latest iPhone model or sell your old phone, it is recommended to know how to disconnect iPhone from Mac. Otherwise, with your phone paired with your Mac, the new owner of your phone can access your sensitive information and access photos.
Here are Some Ways Syncing Mac and iPhone Can Make Your Life Easier:
Although Macs come with in-built webcams, they're not as high-end as the cameras on iPhones and iPads. But, thanks to this feature, just take your tablet or phone close to the Mac, and you can use the former's camera to take pictures or video calls.
You no longer have to go through a friction-filled process to open something on your iPhone from your Mac. Whether uploading movie files to Dropbox or creating an email to send a link, the process will not take more than a few seconds. When the two devices are synced, sharing files or documents to your Mac from your iPhone is as easy as tapping your face. Use the AirDrop feature to drag and drop files between the two devices.
Calling/Texting on Both Devices
By syncing your iPhone with your Mac, you can make your computer take calls and reply to text messages. So your Mac doubles as a phone, thanks to iMessage and FaceTime applications.
You don't have to reach out for your phone when you are working on your Mac and need to handle incoming calls or reply to texts. Instead, you can attend calls or respond to texts right from your Mac. This seamless integration ensures you can work in peace without any fuss.
Copying and Pasting Across Devices
Juggling your phone and computer need not be a challenge. Owing to the Universal Clipboard feature, you can quickly copy images or texts on your macOS or iOS device and paste them on another.
However, you may face difficulties if all the requirements are not met. For example, both devices must be logged in with the same Apple ID. Also, they must be connected to the same Wi-Fi network. Furthermore, the Bluetooth functionality must be activated on both devices. Lastly, the devices must be near each other.
When both devices are synced, you do not have to worry about finding the photos clicked on your phone. Instead, the images will show up in the Photos application. You can also upload them to iCloud and access them remotely across your Apple devices.
If you have an iPhone and a Mac, you can turn your phone into a mobile hotspot for your computer/laptop. When you turn on the hotspot mode, access is granted automatically to MacBooks that are signed in with the same Apple ID and password.
Security is paramount in a hacker-filled world, and it is critical to safeguard your passwords so cyber criminals cannot access your personal information. This is why it is essential to activate the two-factor authentication to keep your accounts and information away from nefarious third parties. So that cybercriminals cannot access your online accounts.
However, it can be annoying to look for your phone whenever you need to find the passwords sent to your phone. That's why syncing your Mac with your phone is essential, as it will automatically take passcodes sent to your phone and plug them into the website you are trying to access.
The Bottom Line
So if you are already using a Mac, you must get an iPhone, and vice versa. This will make your life easier by boosting seamless integration. Furthermore, you will become part of the Apple ecosystem and access important files and documents on any device, whichever is closer to you.