Tech
how to blur background on zoom on computer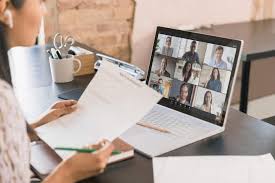 In the world of virtual meetings and remote work, Zoom has become a household name. With its user-friendly interface and robust features, it has made communication easier than ever. One such feature that makes your Zoom calls more professional is the ability to blur your background. Whether you're working from home or just want to keep things private during a call, blurring your background is easy to do on your computer with just a few clicks. In this blog post, we'll show you how to blur the background on Zoom and take your video calls up a notch!
What is Blur Background on Zoom?
The blur background feature on Zoom allows you to hide your actual surroundings during a video call. It's an excellent way to keep the focus on you and minimize any distractions that may be present in your environment.
This feature is especially helpful for those who work from home or have virtual meetings in public spaces. With a blurred background, you can maintain privacy while still appearing professional and attentive.
Another benefit of this feature is that it requires no additional equipment or software. All you need is a computer with a web camera and internet connection, along with the Zoom app installed.
The blur effect works by using artificial intelligence to detect the foreground (you) and separate it from the background. The algorithm then applies a Gaussian blur filter to the background, creating an illusion of depth of field similar to what one might achieve with high-end camera lenses.
Blurring your background on Zoom is both practical and aesthetically pleasing, making it an essential tool for anyone looking to elevate their virtual presence.
How to Blur Background on Zoom on Your Computer
Blur background on Zoom has become a sought-after feature among professionals who want to keep their surroundings private during video conferences or simply don't want to show what's going on behind them. With this feature, you can blur out the mess in your room without having to tidy up before every meeting.
To start, make sure that you have the latest version of Zoom installed on your computer. Open Zoom and sign in with your account details. Click on "Settings" at the top right corner of the screen and select "Virtual Background" from the left panel.
Here you will see an option for "Blur," click it so that a blue tick appears next to it. Then go back to your main window with video preview and ensure that you're using "Background" instead of "No Video".
You may also choose one of Zoom's pre-set virtual backgrounds if blurring isn't necessary or upload custom images by clicking "+ Add Image." You can then test how well the software picks up various parts of your body as you move around.
If for any reason, zoom is not detecting your image properly, consider adjusting either lighting conditions or even switching places altogether! You can now be confident in knowing people won't catch glimpses of unwanted things they shouldn't see when joining meetings online.
Conclusion
Blurring your background on Zoom can be a useful tool when you want to keep the focus on yourself during video calls. It's a simple feature that can greatly improve the quality of your online meetings and presentations. By following the steps outlined in this article, you'll be able to easily blur your background on Zoom using your computer.
Remember to test out different backgrounds before joining a call so that you find one that suits your needs and looks professional. Also, make sure that you have good lighting and sound quality for an overall better experience.
We hope this guide has been helpful in teaching you how to blur background on Zoom on your computer. With these tips and tricks, you'll be able to present yourself confidently in any virtual setting!